JOE SCHIAVONE
Bass, Vocals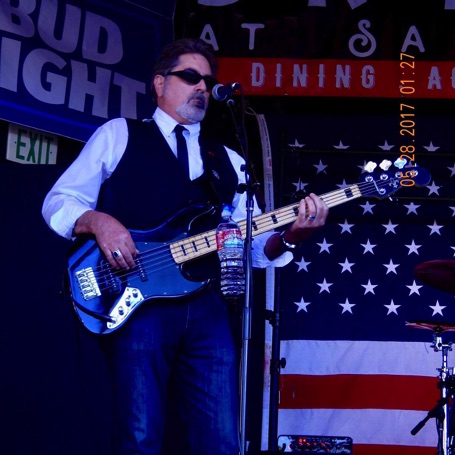 Joe's musical journey began at 11 years of age when he was coerced (by a neighborhood buddy) to play the trombone. The music education system was excellent during his youth and Joe took full advantage of this opportunity that was fully provided along with private lessons. Joe remained a trombonist until his senior year in High School and while in the Stage Band , he was enamored with the addition of the electric bass. It was at a Tower of Power concert (at Knott's Berry Farm) that Joe decided to switch instruments. That was in 1976! Joe applied all of his previous musical education to his new instrument.
It was a very comfortable transition. It wasn't long before Joe began rehearsing and performing in local rock bands. 40+ years of experience has led to many accomplishments. After many years of
consistent club gigs, Joe's persistence has led to many accolades that include:
• 2004 Featured Musical Act at the Temecula Film Festival (with Aunt Kizzyz Boyz)
• 2006 Second Place Band at the International Blues Challenge (with Aunt Kizzyz Boyz)
• 2008 Winner in Urban Music Category at the Los Angeles Music Network competition (with Aunt Kizzyz Boyz)
• 2008 Nominee for Best Blues Album at the San Diego Music Awards (with Aunt Kizzyz Boyz)
• 2014 Winner Best Cover Band at the Temecula Valley Music Awards (with Lifetime Rocker)
• 2015 Winner Best Tribute Band at the Temecula Valley Music Awards (with the Heart of Rock and Roll)
Joe's experience includes extensive national and international touring performing at numerous festivals, venues and recording.
Joe's Discography includes:
• "Trunk Full of Blues" Aunt Kizzyz Boyz 2003 Sugarking Records
• "It's Tight Like That "Aunt Kizzyz Boyz 2008 Sugarking Records
• "If It Was Easy" The Rogue Devilles 2012 Double Barrel Records
Joe has shared billing with artists including: Etta James, Leon Russell, Joe Bonamassa, Ivan Neville's Dumstaphunk,Joe Louis Walker and many other notable blues acts. He has also performed with: J.R. Lawing (Gregg Allman Band , Spencer Davis Group ) Alex Ligertwood (Santana) Tony Dean (Dave Mason , The Pointer Sisters) Teddy "Zigzag" Andeadis (Alice Cooper, Guns and Roses , Carol King , Billy Bob Thornton and The Boxmasters , Walter Trout) Frankie Lee (Ike and Tina Turner) Alvin Bennett (LTD , Dave Mason ) Dan Miller ( Freddy Fender , Spencer Davis Group , The Bellamy Brothers) Steve King (Allan Holdsworth) Brian Otto (Weird Al Yankovic) and many others!
Joe's current musical endeavors include anchoring the rhythm section(s) with an ensemble of highly talented musicians that consistently push themselves and continually increase their repertoire of over 500 songs so as to literally cover every genre!