GEOFF RYLE
Piano & Keyboards, Vocals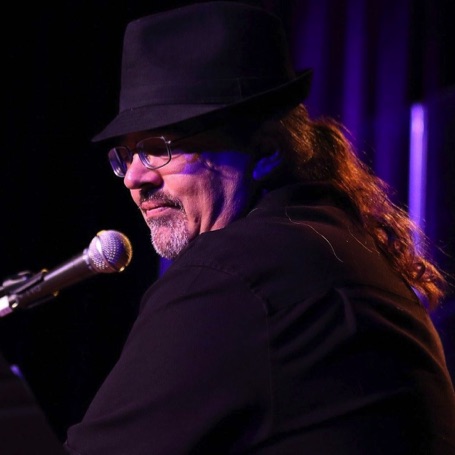 Geoff began studying classical piano at age five but had already discovered his love for singing by then. At age 14, he was already playing a regular weekly solo gig at the local Shakey's Pizza Parlor, just he and his Fender Rhodes. Always a choir nerd, Geoff served as choir president in his senior year of high school, led the after-school madrigal singers club, played many leading parts in a variety of full-scale musicals (even transcribing music for the student orchestra), and was the first ever recipient of the Herb Alpert Senior Scholarship. He's been playing in bands since he formed his first group in junior high and purchased his first synthesizer in 1980.
In 1983, Geoff landed a job as an audio technician at legendary Oberheim Electronics, testing OB-8 polyphonic
synthesizers coming off the assembly line (he still has his) and demonstrating new products for artists such as Geddy Lee of Rush and Tim Weisberg. In 1986, he joined what was later known as Steinberg North America and became the country's foremost expert in their flagship software, Cubase, led product demonstrations at NAMM, published a bimonthly national newsletter, taught classes in LA and NY, and made instructional videos. During this time, Geoff also wrote MIDI-related articles for several magazines including Music Technology, Music & Sound Retailer, Atari Explorer, and was a regular columnist for Keyboard Magazine. He wrote numerous owners manuals for a variety of MI products including the Alesis QuadraSynth, QS7/8, MIDIVerb III, QuadraVerb 2, SR-16, ADAT-XT, Fostex R8, and Waldorf MicroWave. He later became an independent consultant/tech for many well-known artists including: Lee Ritenour, Abraham Laboriel, Danny Elfman, Jeff Lorber, Chester Thompson, Glen Ballard, Steve Kipner, and Allan Holdsworth. In 1988, Geoff began working with world-renown film composer Hans Zimmer and assisted in translating MIDI sequences into printed orchestrations for such projects as "Pacific Heights", "Days of Thunder", "Toys", "Radio Flyer", "Thelma & Louise", "The Power of One" and "Backdraft".
Starting a family and a new career as a database/custom-application developer pushed Geoff's music into the background in 1996. But by 2008, he was ready to stick his toe back in and started playing off and on in the San Diego based band "Audiocast" as well as playing solo gigs at local venues. Around that time, he decided to dust off and revisit several recordings from the previous decade and released them as an album on his own label, entitled "Oyster Brew". Geoff's family is also extremely musical and during the recent lockdown have posted several music videos on YouTube under the name "The RYLETONES".
In 2012, he met local guitarist/vocalist Kelly Cowan who was looking for a multi-keyboardist who could sing for a new project. That was the beginning of "Lifetime Rocker", the award-winning cover band based in the Temecula Valley. "LTR" have been going strong for the past 9 years and form the basis of several tribute bands, including "Hip To Be Square". Although considered the Music Director of these groups, Geoff is quick to point out the many contributions each band member makes to the overall high quality of musicianship.